_______________



Additional Photos






Unidentified Ellobiid sp. #3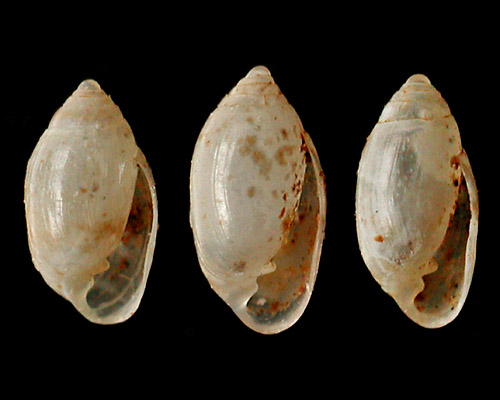 Maximum size:

2.1 mm shell length.



Identification:

The shell of this species is similar to that of unidentified ellobiid sp. #1. However, it is more slender, lacks the constricted base and has less thickening of the outer lip.



Natural history:

Unidentified ellobiid sp. #3 is known from only a few shells found in a back-beach sediment sample from Oahu. (Note 1)



Distribution:

Oahu.



Taxonomic notes:

It seems likely that unidentified ellobiids #1, #2, and #3 are in the same genus. Severns, 2011 lists the first two species as

Ophicardelus

sp. 1 & 2, respectively. However, they seem closer to shells labelled

Microtralia

sp. on-line. So, we've decided to leave this species as un. sp. #3 pending further work.



Photo:

CP: composite photo, three shells; largest 2.1 mm: from a back-beach sediment sample provided by Helen James; Oahu.



Observations and comments:



Note 1: It's possible that these shells were sub-fossil.