_______________



Additional Photos



rhinophores retracted

underside

crawling

possible food?


Knoutsodonta cf.

maugeansis

(Burn, 1958)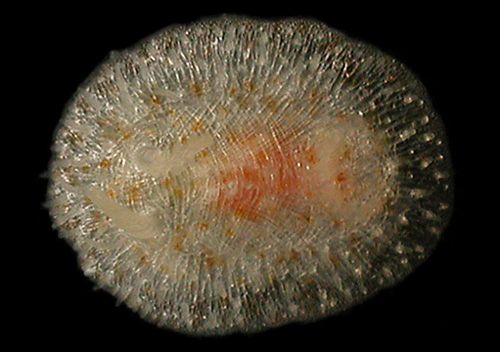 Maximum size:

4 mm.



Identification:

This is a flattened, firm species with elongate tubercles on its notum and elongate rhinophores with diagonal lamellae. The notum is cream, flecked with brown, and contains obvious spicules.



Natural history:

Knoutsodonta

cf. maugeansis is known from two animals found in algae washes taken at a depth of 3-10 m (10-32 ft). The washes included both rubble and Halimeda kanaloana and the site was moderately exposed. It may be feeding on a large bryozoan, Schizoporella sp., that is common in the Halimeda beds. (Note 1)



Distribution:

Maui: may also be known from Australia.



Taxonomic notes:

Hawaiian animals are very similar to photographs of Knoutsodonta maugeansis from Australia. However, that species is recorded feeding on encrusting bryozoans rather than Schizoporella sp. Considering that difference and the range extension we're using caution regarding lumping the two. It was first recorded in Hawaii from Kenolio Park, Maui by CP on Dec. 5, 2014.



Photo:

CP: 3 mm: Kenolio Park, Maui; Dec. 5, 2014.



Observations and comments:



Note 1: Colonies of Schizoporella sp. were brushed or shaken during the washes. Also, the orange digestive glands of the animals match the color of the bryozoan colonies (see photo). That suggests they may be eating the Schizoporella sp. in Hawaii.