_______________



Additional Photos



side

"tails"
black

trio crawling
shell


Nakamigawaia
sp. #2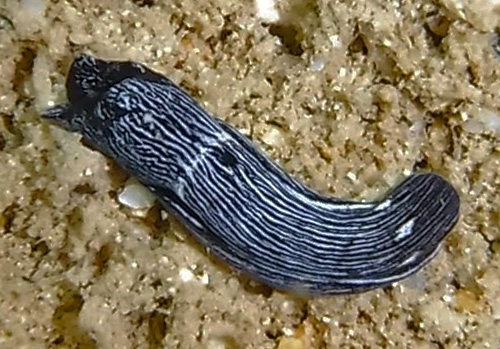 Maximum size:

6 mm.



Identification:

This is a small, flattened species with a sickle-like internal shell and rounded, asymmetrical "tails." It varies from solid black to black with fine white lines and white blotches. (Note 1) There's a narrow, translucent-white band at the front of the head.



Natural history:

Nakamigawaia

sp. #2 is rarely seen but may occasionally occur in large blooms. (Note 2) The Maui animals were found in a rocky habitat at a depth of 9 m (30 ft). The Kauai animals were found on a sandy bottom at about 3 m (10 ft). The latter population was crawling in the open during the day.



Distribution:

Maui, Oahu and Kauai: probably widespread in the Indo-Pacific.



Taxonomic notes:

This species was first reported in Hawaii by Terry Gosliner from Kaneohe Bay, Oahu (as Melanochlamys cylindrica in Gosliner, 1980). It was previously listed as Nakamigawaia felis. However, Ortea, et. al, 2014 restricted N. felis to the Atlantic. Some sources place it in Migaya.



Photo:

Kyle Pias: Anini Beach, Kauai; July 29, 2018.



Observations and comments:



Note 1: Alex Dutcher and Kyle Pias said, with regard to the animals in the Kauai bloom: "Both striped and black forms were present, with a range from heavily striped to entirely black." That observation supports lumping the color forms.

Note 2: Alex Dutcher and Kyle Pias said, with regard to the Kauai bloom, that "There were at least 50 animals present adjacent to large numbers of blue swallowtail slugs (Chelidonura hirundinina). They were about 3 m deep on the sandy bottom of the boat channel...They cruised the substrate pretty quickly!"