_______________



Additional Photos



side
detail of spots
young pair
shell outline


Berthellina
sp. #1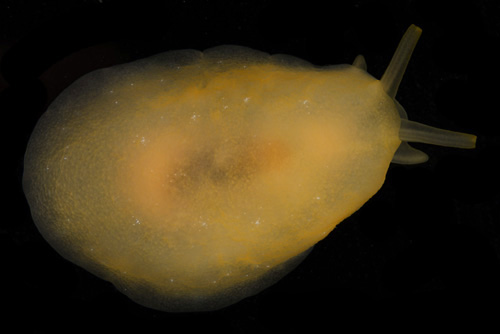 Maximum size:





Identification:

This is an orange, gelatinous species similar to Berthellina delicata except for the presence of widely-spaced clusters of minute white spots on the notum. It becomes darker and more opaque with growth while the clusters of white spots become more elaborate.



Natural history:

Berthellina

sp. #1 is known from three animals found in moderately exposed rocky habitats at a depth of < 6 m (< 20 ft).



Distribution:

Maui and Oahu: probably widely distributed in the Indo-Pacific.



Taxonomic notes:

The Oahu animal was originally misidentified as a pale Berthellina delicata, but its DNA proved divergent from that species (Gustav Paulay, pers. com.). On reexamination, it was found to differ from it in having widely-spaced clusters of minute white spots on the notum. Comparable animals appear in photographs from the Indian Ocean, Australia and elsewhere. Live animals were probably first recorded in Hawaii during the 2017 MarineGeo at Kaneohe Bay, Oahu by the Invert Team on May 31, 2017. (Note 1)



Photo:

Invert Team: 2017 MarineGeo; Kaneohe Bay, Oahu; May 31, 2017.



Observations and comments:



Note 1: The pleurobranchid shells listed as "un. sp. #2" could turn out to be from this species. However, with multiple candidates, that will require further work for confirmation.