_______________



Additional Photos


underside




Carminodoris

cf.

flammea

Fahey & Gosliner, 2003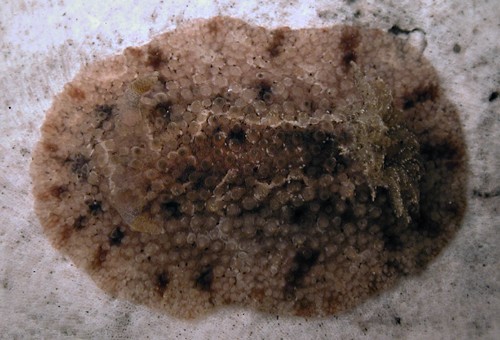 Maximum size:

48 mm.



Identification:

This species has small, closely spaced tubercles and long, slender rhinophores. The center of the notum has a darker area irregularly outlined in cream. Both the notum and underside are blotched with brown. It differs from

Carminodoris bifurcata

in its slender rhinophores with light brown clubs and its uniformly colored branchia.



Natural history:

Carminodoris

cf.

flammea

is known from only a few animals found in protected sites on Oahu at depths of < 2 m (< 6 ft).



Distribution:

Oahu:

Carminodoris flammea

is known from Indonesia.



Taxonomic notes:

The rhinophores, pattern, tubercles and branchia are very similar to

Carminororis flammea

from Indonesia. However, it lacks the reddish hue of that species. It was first recorded in Hawaii from Iroquois Channel, Pearl Harbor, Oahu by Scott Johnson on March 13, 1982. (Note 1)



Photo:

PF: 48 mm: found by Darrell Takaoka; Hawaii Kai, Oahu; Feb. 17, 1999.



Observations and comments:



Note 1: There's some chance that these animals could be Carminodoris bifurcata that lack the usual burnt-orange pigment.