_______________



Additional Photos



dorsal view




Cliopsis krohni

Troschel, 1854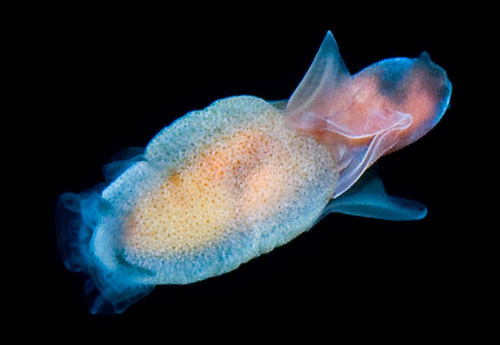 Maximum size:





Identification:

This is a plump, moderately elongate species with swimming "wings" located far forward near its head. Its body has a finely reticulated surface and a yellowish to rosy hue. A median foot lobe surrounds the retracted feeding apparatus on the underside of its head.



Natural history:

Cliopsis krohni

is a pelagic species that is rarely seen in near-shore waters at night. It feeds on pseudothecosomes such as Corolla spectabilis. (Wrobel & Mills, 1998)



Distribution:

Big Island: circumtropical.



Taxonomic notes:

It was probably first recorded in Hawaii off the Kona Coast of the Big Island by Joshua Lambus on July 11, 2008. (Note 1)



Photo:

Joshua Lambus: ventral view, slightly contracted: 3 miles off the Kona Coast, Big Island; 12 m (40 ft); at night; July 11, 2008.



Observations and comments:



Note 1: Previously, we listed this species as occurring in the north Pacific near Hawaii based on the range maps in Pelagic Molluscs on the Marine Species Identification Portal. However, Joshua's photo confirms its presence in near-shore waters.