_______________



Additional Photos



filament


Cymbulia sibogae Tesch, 1903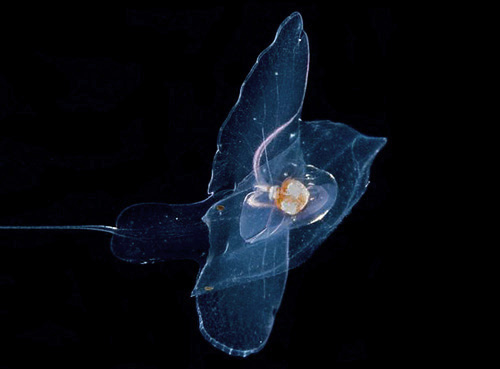 Maximum size:

10-15 mm. (note 1)



Identification:

This is a medium-sized, transparent species with broad wings and a spearpoint-shaped, cartilaginous pseudoconch. It has a paddle-shaped "tail" with an elongate central filament.



Natural history:

Cymbulia sibogae

is a pelagic species that is rarely seen at night in off-shore waters.



Distribution:

Big Island and Maui: south Atlantic and Indo-Pacific.



Taxonomic notes:

It was first recorded in Hawaii off the Kona Coast of the Big Island by Doug Perrine on Feb. 28, 2020. Some sources combine this species with other populations in the genus under the circumtropical species Cymbulia peroni.



Photo:

Doug Perrine: 10-15 mm: off the Kona Coast, Big Island; 15 m (49 ft); at night; Feb. 28, 2020.



Observations and comments:



Note 1: Pelagic Molluscs lists the maximum size as 24 mm (with other populations in the genus reaching 65 mm). So, Doug's animal may be relatively young. Kimberly Story's photo of a pseudoconch suggests that they can get much larger in Hawaiian waters.