_______________



Additional Photos




Unidentified Discodorid #19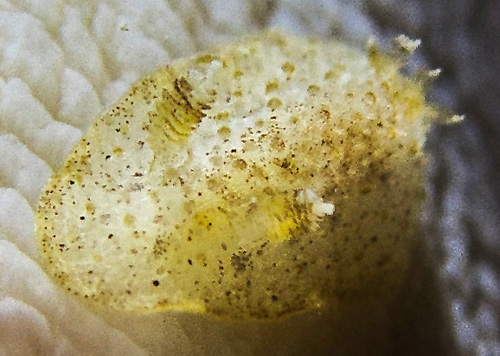 Maximum size:

3 mm.



Identification:

This is a small, cream dorid with closely-spaced, rounded tubercles that vary in color from cream to light brown. The rhinophores and branchia have white tips and subapical brown pigment. There are randomly distributed, dark-brown flecks on the notum (unless the flecks in the photo are sand grains?).



Natural history:

Unidentified discodorid #19 is known from one animal (probably juvenile) found drifting in the water column at night at a moderately exposed site.



Distribution:

Maui.



Taxonomic notes:

It seems most likely that this species is in the Discodoridae but the family remains somewhat uncertain (Dorididae?). It was first recorded in Hawaii from Black Rock, Maui by David Leonhardt on Dec. 23, 2020. (Note 1)



Photo:

David Leonhardt: 3 mm: Black Rock, Maui; Dec. 23, 2020.



Observations and comments:



Note 1: It's possible that this animal is a juvenile of one of the other listed species. But, there doesn't seem to be an obvious match.