_______________



Additional Photos



dark
intermediate

probable food

egg mass
_______________


GALLERY


Doto sp. #1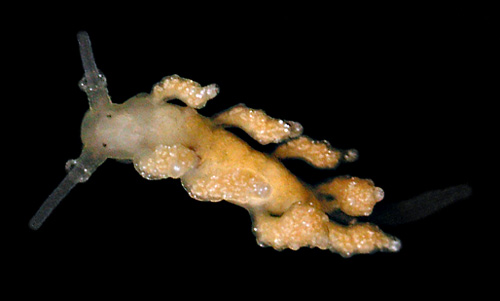 Maximum size:

6 mm.



Identification:

This is a small species with irregularly tuberculate cerata. The body is transparent to translucent cream. The digestive gland showing through the cerata is cream and there may be a few white flecks on the cerata and rhinophore sheaths. The cream coloration is often obscured by a variable amount of black pigment. (Note 1)



Natural history:

Doto

sp. #1 is a pelagic dendronotid that lives on floating debris, often in association with Fiona pinnata. It probably feeds on a small "fussy" hydroid only a few mm tall that also lives on the debris. Like many species from that habitat, it clings tenaciously to its substrate. Larger animals seemed to displace smaller animals while copulating in a dish and pairs remained resting for some time on newly laid egg masses. Two to three mm animals laid cream, arc-shaped egg masses about 1 mm across the arc that hatched in about four days in the laboratory. Some older masses laid in the field, perhaps by larger animals, had a complete whorl.



Distribution:

Maui and French Frigate Shoals: probably also recorded from southern Japan and Kwajalein.



Taxonomic notes:

It was first recorded from Hawaii off Maui by PF on Nov. 12, 1992.



Photo:

CP: light: found on floating plastic; 2006 CREEF expedition; French Frigate Shoals; Oct. 25, 2006.



Observations and comments:



Note 1: When several animals were held together in a dish on March 25, 2006 dark and light animals were observed repeatedly copulating with each other supporting lumping the color forms.