_______________



Additional Photos



violet spots
contracted rhinophores

large
young
split rhinophore

feeding

egg mass
_______________


GALLERY


Favorinus sp. #1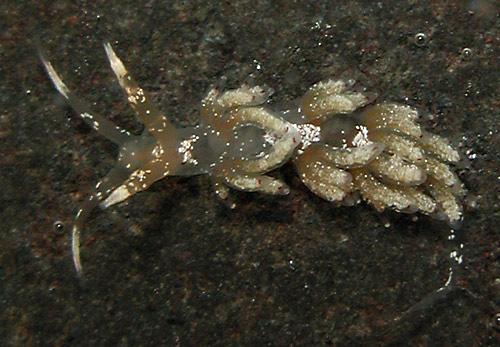 Maximum size:

14 mm.



Identification:

This species is very similar to Favorinus japonicus with two to three swellings on its rhinophores. The cerata vary from white to brown and they usually have violet subapical spots. (Note 1) The surfaces of the cerata are nodular but the nodules are usually less prominent than in F. japonicus. In addition, they usually have finer white flecking than in that species.



Natural history:

Favorinus

sp. #1 is a moderately common species found in moderately exposed to exposed rocky habitats and

Halimeda kanaloana

beds at depths of 4-9 m (13-30 ft). Like

F. japonicus,

it feeds on the eggs of other opisthobranchs. (Note 2) It lays a white, spiral egg mass composed of a narrow ribbon that hatches in about four days in the laboratory.



Distribution:

Maui, Oahu, Kauai and Midway.



Taxonomic notes:

There is some possibility that this species may turn out to be a color form of

F. japonicus

. It was first recorded in Hawaii from Airport Beach, Maui by CP on Sept 12, 1994.



Photo:

CP: 5 mm: found by PF; Whaler's Village, Maui; April 22, 2007.



Observations and comments:



Note 1: The violet pigment appears to be deposited in the tip of the digestive gland and to be independent of pigments in the egg masses that they're eating.

Note 2: We observed one feeding on a cephalaspidean egg mass that was laid in a holding dish. Photos include feeding on aplysiid masses.