_______________



Additional Photos



2nd animal
head

cerata


Herviella mietta Marcus & Burch, 1965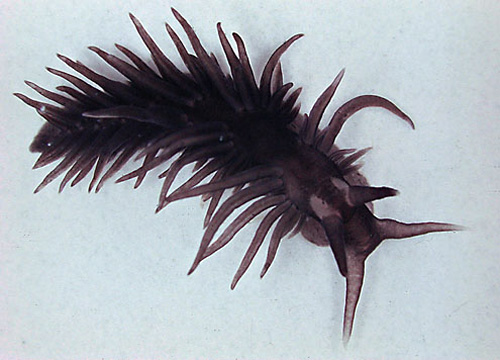 Maximum size:

40 mm (Kay, 1979).



Identification:

This is a distinctive, dusky gray to black animal.



Natural history:

H

erviella mietta

is a rare species on Maui. We've only seen one animal, found in a tide pool at a moderately exposed site. It's nocturnal and, unlike most members of the family, feeds on a sea anemone:

Anthopleura nigrescens

(Rosens, 1969). (Note 1)



Distribution:

Big Island, Maui and Oahu: widely distributed in the western & central Pacific.



Taxonomic notes:

It was first reported from Hawaii in Rosin, 1969 (as

Herviella

sp.).



Photo:

PF: found by Darcy Kehler; Napili Bay, Maui; May 21, 1997.



Observations and comments:



Note 1: Although the Maui animal was found at night, the Oahu animal found by Brian Magnier was reported as "Exposed on rock in tide pool, mid-day" (pers. com.). A second Oahu animal found by Brian Deis at around 7:30 PM was reported as being "under a rock...in about 20-40 cm of water" (pers. com.). The Big Island animals were found under rocks in the early evening.