_______________



Additional Photos


underside
side
short processes

little orange

yellow

dark blotch
_______________


GALLERY


Okenia sp. #1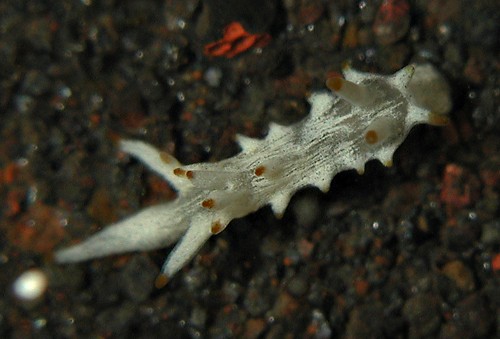 Maximum size:

4 mm (Midway animals to 10 mm).



Identification:

This is a cream dorid with a notum variably streaked with opaque white. Some animals have brick-red blotches on the notum and, rarely, it may have a yellow tinge. (Note 1) It has a pair of elongate extra-branchial processes and a series of short thorn-like processes lining the notum. The latter vary considerably in length. The rhinophores are simple and both the processes and rhinophores are variably tipped with orange.



Natural history:

Okenia

sp. #1 is a moderately common species found in moderately exposed to exposed rocky habitats and

Halimeda kanaloana

beds at depths of 4-11 m (13-36 ft). One animal laid a crescent-shaped, white egg mass measuring 1.4 mm by 0.5 mm.



Distribution:

Big Island, Maui, Oahu, Kauai and Midway.



Taxonomic notes:

It was first recorded in Hawaii from Midway Atoll by Terry Gosliner and PF in June, 1993.



Photo:

CP: 3 mm: Ulua Beach, Maui; Nov. 26, 2004.



Observations and comments:



Note 1: Perhaps, the tint in the yellow and/or blotchy animals is due to variations in diet?