_______________



Additional Photos






Paraganitus
sp. #1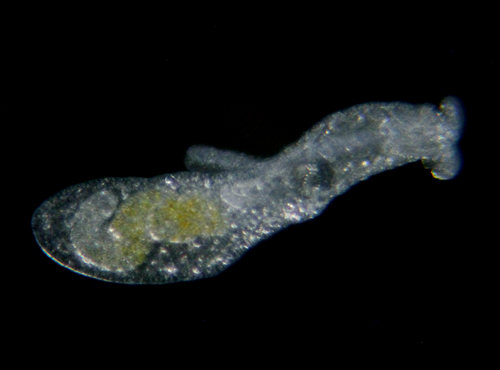 Maximum size:

0.7 mm.



Identification:

This is a tiny, elongate animal with short tentacles on its head. (Note 1)



Natural history:

Paraganitus sp. #1 is a rarely seen species that lives insterstitially in sand.



Distribution:

Oahu.



Taxonomic notes:

It was first recorded in Hawaii from Kaneohe Bay, Oahu by the meiofauna team during MarineGeo in May, 2017.



Photo:

Katharina Jörger: 0.7 mm: 2017 MarineGeo; found by meiofauna team; Kaneohe Bay, Oahu; May, 2017.



Observations and comments:



Note 1: Katharina Jörger sent the following information: "externally similar to Microhedyle sp., both genera can be distinguished easily however based on the hook-shaped radula with many rows in Microhedyle vs. a radula with few single dagger-shaped teeth in Paraganitus."