_______________



Additional Photos


underside

pale

young, 4 mm

juvenile shell


Phanerophthalmus

anettae

Austin, Gosliner & Malaquias, 2018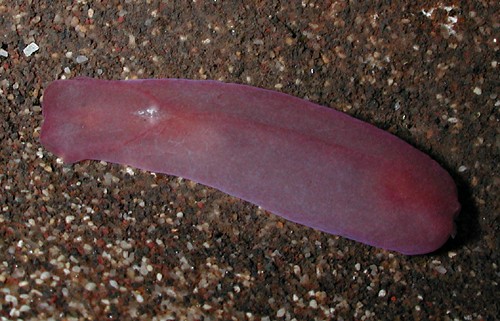 Maximum size:

20 mm.



Identification:

This species has a very small external shell that is much shorter than the body and is covered by the parapodia. The animal is pale violet, densely flecked with darker violet and with white frosting on the posterior lobes of the head shield. It is less slender than

Phanerophthalmus cf.

paulayi

and the posterior margin of the head shield is more deeply lobed than in that species. The underside may be lightly flecked with brown.



Natural history:

Phanerophthalmus

anettae

is known from only three animals. One was found in an artificial tide pool. (Note 1) The other two were found in a rocky area and a Halimeda kanaloana bed between 7 and 19 m (23 and 62 ft). The mature, subtidal animal showed a nocturnal behavior pattern while held and buried itself in sand during the day.



Distribution:

Big Island and Maui: widely distributed in the Pacific.



Taxonomic notes:

It was first recorded in Hawaii off Makena, Maui by PF on Aug. 31, 1992.



Photo:

CP: 20 mm; Airport Beach, Maui; May 25, 2008.



Observations and comments:



Note 1: Perhaps, atypical conditions in the pool were responsible for its pale color?