_______________



Additional Photos



underside
side

rhinophores

less pink

young

without flash
feeding

mating
_______________


GALLERY


Phyllidiella pustulosa Cuvier, 1804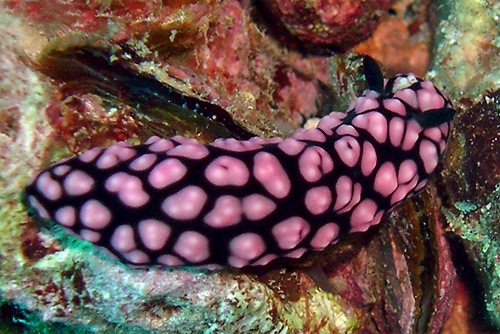 Maximum size:

about 51 mm (Hoover, 2006).



Identification:

This species is elongate with low, irregularly-shaped clusters of smooth, conical, pink tubercles on a black notum. The tubercles are usually simple and there are occasional black lines ascending the sides of larger clusters. The mantle margin is edged in pale pink and the rhinophores are black. When seen underwater with the human eye, the animal may appear to have gray-green tubercles against a black background due to the absence of red light in deeper water. (see photo) It can be distinguished from

Phyllidiopsis fissurata

by its continuous pink marginal line and solid black rhinophores. It can be distinguished from Phyllidiella cf. lizae by the pink pigment overriding the posterior margins of the rhinophore sheaths.



Natural history:

Phyllidiella pustulosa

is commonly found in the open in rocky habitats. It lives in moderately protected to highly exposed areas at depths of 4-26 m (13-85 ft). It has been observed feeding on an orange encrusting sponge of the genus

Stylinos

.



Distribution:

Big Island, Maui, Lanai, Molokai, Oahu, Kauai, Niihau, French Frigate Shoals and Kure: widely distributed in the Indo-Pacific.



Taxonomic notes:

This is probably the species listed as

Fryeria ruppelli

Bergh, 1889b in Kay, 1979 and as

Phyllidia pustulosa

in Bertsch and Johnson, 1981. (Note 1) The name means "full of pustules" referring to the many pink tubercles. It is referred to as the "pustulose Phyllidia" in Hoover, 1998 & 2006. There's some chance that the animal labelled "less pink" could be distinct.



Photo:

PF: Haloa Point, Maui; June 18, 2007.



Observations and comments:



Note 1: The photo in Kay's Fig. 153 appears to show a typical P. pustulosa. However, her statement that the rhinophores are white is anomalous.