_______________



Additional Photos



underside

texture

branchia
rhinophores


Platydoris sp. #3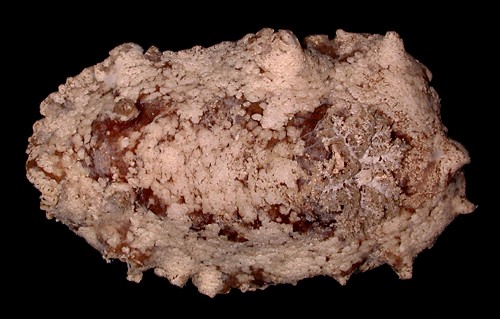 Maximum size:

90 mm.



Identification:

This is a firm, flattened dorid intricately blotched with cream and red-brown. The surface of the notum is finely granulose and the cream patches are irregularly elevated. (Note 1)



Natural history:

Platydoris

sp. #3 is known from only two animals. The Oahu animal was dredged from about 100 m (328 ft). The French Frigate Shoals animal was found in a

Halimeda kanaloana

bed at scuba depths. When found, it was covered with a thin layer of sand.



Distribution:

Oahu and French Frigate Shoals.



Taxonomic notes:

This species bears some similarity to

Platydoris inframaculata

from elsewhere in the Indo-Pacific. It was first recorded in Hawaii from Oahu by Terry Gosliner.



Photo:

CP: 90 mm: 2006 CREEF expedition; French Frigate Shoals; Oct. 24, 2006.



Observations and comments:



Note 1: Perhaps, the elevated cream patches are glands that produce mucus as an aid to movement through sand?