_______________



Additional Photos



in field

light

underside

texture

radula

copepods


Pleurobranchella

nicobarica

Thiele, 1925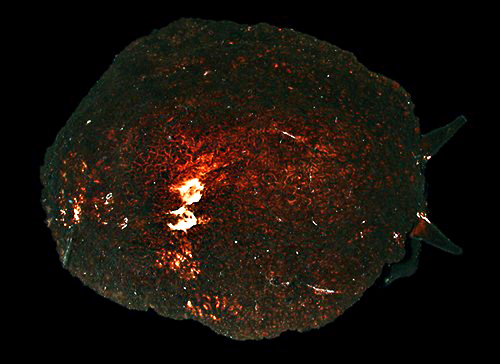 Maximum size:

about 220 mm.



Identification:

This is a large, gelatinous species with a wrinkled surface and widely scattered, small tubercles. Most animals are very dark brick-red although a few may be light brown with white speckles on the tubercles. The oral veil is tuberculate but lacks long sensory papillae.



Natural history:

At French Frigate Shoals, fifteen animals were found in lobster pots baited with dead herring suggesting that it's a scavenger. When held in buckets, some displayed weak swimming motions. (Note 1) Most were "infested" with commensal copepods. (see photos) The lobster pots were set over a depth range of 80-242 m (262-794 ft) with a minimum depth range for the animals of 128-178 m (420-584 ft). It has also been photographed by HURL submersibles at depths of 212-389 m (696-1276 ft). They appear to excavate shallow pits in sand when resting.



Distribution:

Big Island, Oahu, Kahoolawe, Molokai, French Frigate Shoals, St. Rogatien Bank, Raita Bank and Laysan: also known from Johnson Atoll.



Taxonomic notes:

It was first recorded in Hawaii by the Undersea Research Laboratory (HURL) during Makali'i submersible dive # M-65, principal investigator John Wiltshire, Jan 31, 1982.



Photo:

CP: dark form: 2006 CREEF expedition; 150-163 m (492-535 ft); French Frigate Shoals; Oct. 13, 2006.



Observations and comments:



Note 1: Based on the display of swimming motions when held and the number found in the baited traps, it's tempting to speculate that they may find food by detecting the scent of a dead fish and swimming up the scent trail to its source.