_______________



Additional Photos



underside

side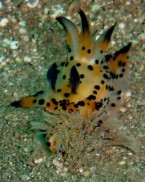 feeding

mating

egg mass
veligers
_______________


GALLERY


Polycera abei (Baba, 1960)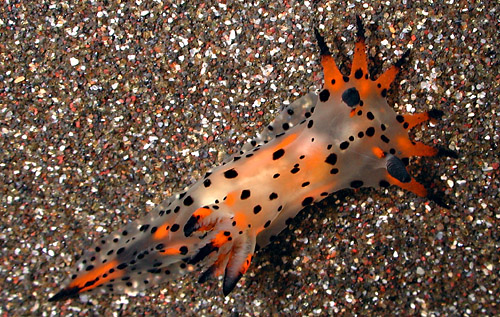 Maximum size:

34 mm.



Identification:

This species has a translucent-gray body elaborately decorated with orange and black. Its long velar appendages are densely papillate and its body has a gelatinous texture.



Natural history:

Polycera abei

is a sporadically common diurnal species found on silty sand at 8-11 m (26-36 ft). (Note 1) It feeds on a small, brown, sand-anchored bryozoan. Irregular cream egg masses are usually wrapped around small sprigs of its host bryozoan in the field. Comparable masses laid in dishes hatched in about four days in the laboratory.



Distribution:

Maui: widely distributed in the Indo-Pacific. (Note 2)



Taxonomic notes:

It was first recorded in Hawaii by Nan Harter at Maalaea Bay, Maui on April 15, 2008.



Photo:

CP: 30 mm; Maalaea Bay, Maui; May 5, 2008.



Observations and comments:



Note 1: We saw many animals scattered over the bottom in small aggregations of 3 to 10 during a series of dives at Maalaea Bay in April and May, 2008. However, we haven't seen the species before or since.

Note 2: There's some chance that this name has been used for animals representing more than one species. Hawaiian animals seem close to those illustrated as "Polycera sp. 2" on Robert Bolland's Okinawa site.