_______________



Additional Photos


underside

young, 6 mm

shell
_______________


GALLERY


Pupa tessellata (Reeve, 1842)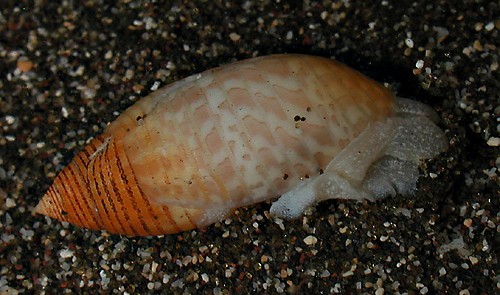 Maximum size:

20 mm (extrapolated from shell length).



Identification:

This species has a heavily calcified shell with widely spaced punctate striae and peach maculations. The body is translucent gray with white flecks. (Note 1)



Natural history:

Pupa tessellata

is a moderately common sand dweller found in protected to moderately protected back reef sand patches at depths of 1-3 m (3-10 ft) as well as in

Halimeda kanaolana

beds at depths up to 17 m (56 ft). Dredged shells at the Bishop Museum extend the depth range to at least 82 m (269 ft). It is nocturnally active, plowing through the sand just beneath the surface at night while remaining buried by day.



Distribution:

Big Island, Maui, Molokai, Oahu and French Frigate Shoals (also Johnston Atoll): widely distributed in the Indo-Pacific.



Taxonomic notes:

The photo of this species in Kay, 1979 is mislabeled as

Pupa pudica

.

Pupa Thaanumi

, Pilsbry, 1917 is a synonym (Kay, 1979) and it is listed under that name in Edmondson, 1946, Quirk & Wolfe, 1974 and Tinker, 1958. The fossil species Pupa pearlensis, Pilsbry, 1921 may also be a synonym. It was probably first reported from Hawaii in Pilsbry, 1917.



Photo:

CP: about 18 mm: Hekili Point, Maui; Oct. 3, 2002.



Observations and comments:



Note 1: Shells of this species show strong red fluorescence under ultraviolet light (395 nM).