_______________



Additional Photos



shell sculpture

underside
youn
g, 1.5 mm

extensive granules
shell


Retusa sp. #2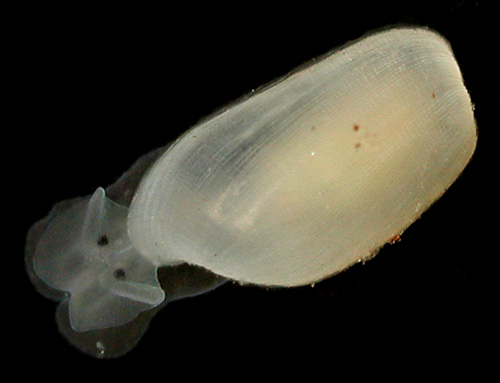 Maximum size:

3.8 mm.



Identification:

The shell of this species has an involute apex plus fine axial ribs and spiral striae. The animal is translucent cream with small greenish-yellow granules embedded in its tissue. The granules appear to become more prominent with age and the eye spots less prominent. The shell profile may be variable. (Note 1)



Natural history:

Retusa

sp. #2 is known from only three live animals: one found in a sand sample taken off Keehi Lagoon, Oahu; one taken in an algae wash at about 1 m (3 ft) at Hekili Point, Maui and one taken in an algae wash at about 1 m (3 ft) near mangroves at Coconut Island on Oahu. Two shells have been found in sand samples from depths of 10-20 m (33-66 ft) on Maui. The coconut Island animal produced an unusually strong mucous "drag-line."



Distribution:

Maui and Oahu.



Taxonomic notes:

There is some question whether this is actually a

Retusa

, pending further work. It was first recorded in Hawaii from a sand sample collected at Black Rock, Maui by CP (shell only). This first live animal was probably recorded off Keehi Lagoon; Oahu by the 2006 CREEF expedition on Oct. 7, 2006.



Photo:

CP: 2.6 mm: Hekili Point, Maui; Feb. 20, 2018.



Observations and comments:



Note 1: The illustrated shell from Wahikuli (see photo) is a bit more slender than the others. So, there's some chance that it may be a separate species. Shell profile could also change with growth.