_______________



Additional Photos



underside
bright

shell


Rissoella cf.

confusa

Ponder & Yoo, 1977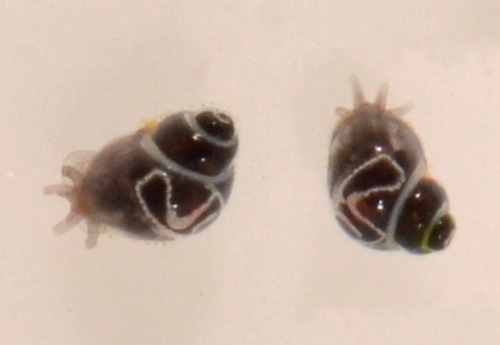 Maximum size:

1 mm shell length (Kay, 1979).



Identification:

This species has a very small, transparent-white shell with an angled umbilicus. Live animals are black, spotted with chrome-yellow (usually in a "butterfly" pattern).



Natural history:

Shells of

Rissoella

cf.

confusa

are moderately rare in beach drift. However, live animals are common on reef flats and in tide pools at moderately protected to moderately exposed sites. They also occasionally occur in large numbers on sand in shallow basins. (Note 1)



Distribution:

Maui, Oahu, Kauai and Midway:

Rissoella confusa

is widely distributed in the western and central Pacific.



Taxonomic notes:

Shells are similar to those of R. confusa found in Japan. (Kay, 1979)



Photo:

Invert Team: 2017 MarineGeo; Kaneohe Bay, Oahu; May 30, 2017.



Observations and comments:



Note 1: Dozens are often found in single algae washes and hundreds in skimmed sand samples (if there's a bloom).