_______________



Additional Photos



side

underside

rhinophores

branchia

front
little white

intermediate white


Sclerodoris sp. #1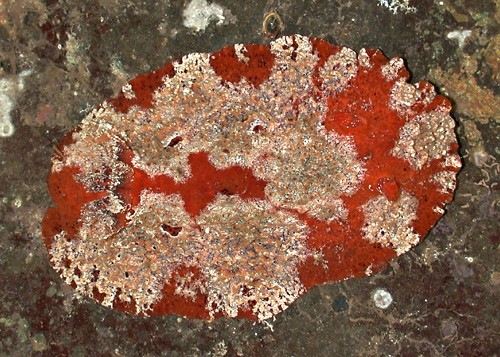 Maximum size:

about 100 mm (Scott Johnson).



Identification:

This is a firm, rough-textured, orange to red species. The notum is variably marked with scabrous white patches. (Note 1) There is a single mid-dorsal "crater" that may contain patches of dark pigment. Lateral to the midline on each side are three smaller depressions that may also contain darker pigment in some animals.



Natural history:

Sclerodoris

sp #1 is a moderately rare species found in tide pools and subtidally to depths of 65 m (213 ft). It occurs at moderately protected to highly exposed rocky sites and has been found resting on a red sponge that matches its color. Rarely, it may be found in

Halimeda kanaloana

beds. It lays a bright orange egg mass that hatches in about five days in the laboratory.



Distribution:

Maui and Oahu: possibly more widely distributed.



Taxonomic notes:

The description of the second

Sclerodoris

sp. in Kay, 1979 appears to refer to this species (although the photo is of our

Aldisa

sp. 2). It is also listed as Halgerda rubra in Kay & Young, 1969. It is similar to the Indo-Pacific

Sclerodoris tuberculata

and is listed as

Sclerodoris

sp. 3 in Gosliner, et. al., 2018. It may have been first reported in Hawaii off Ewa Beach, Oahu in Sept. 1965 (Kay & Young, 1969). However, it seems possible that

Doris excavata

Pease, 1860 and

Doris reticulata

Pease, 1860 were this species rather than synonyms, respectively, of

Trippa osseosa

and

Chromodoris

sp. #1 as suggested in Kay, 1979. If so, it was first reported from Hawaii in Pease, 1860.



Photo:

CP: found by student; Napili Bay, Maui; March 30, 2003.



Observations and comments:



Note 1: Perhaps, the amount of white increases with age?