_______________



Additional Photos


less white
side
front

rhinophores
young

on hydroid
mating


Tenellia pinnifera (Baba, 1949)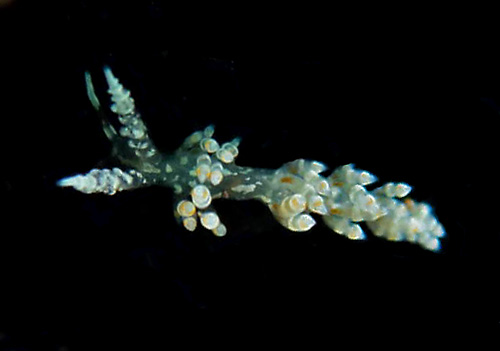 Maximum size:

7 mm (Gosliner, 1980).



Identification:

This aeolid has annulate rhinophores similar to those of Tenellia sp. #22 but has fewer and thicker cerata. White pigment is concentrated in well-defined patches on the central notum. On the cerata, it forms two variably developed rings highlighting low swellings. The cerata cores may appear orange, basally. The cephalic tentacles have solid white tips. (Note 1)



Natural history:

Tenellia pinnifera is a moderately common species found, on Maui, in moderately protected to moderately exposed rocky habitats at depths of < 1 to 4 m (< 3 to 12 ft). One found on Oahu in 1973 by Terry Gosliner was in a highly protected to protected area (Kaneohe Bay). Gosliner (1980) and Kay (1979) reported that the Kaneohe Bay animal was found in association with the hydroid Halopteris diaphana.



Distribution:

Big Island, Maui, Oahu and Kauai: also found in Japan and French Polynesia.



Taxonomic notes:

It was first recorded in Hawaii from Kaneohe Bay, Oahu by Terry Gosliner in Aug. 1973 and is listed as Cuthona pinnifera in Gosliner, 1980 and Kay, 1979. It's also listed in some sources as Catriona pinnifera.



Photo:

Kelly McCaffrey: found be Rebecca Bicker; Maalaea Bay, Maui; March 29, 2021.



Observations and comments:



Note 1: There's some question about lumping the "less white" photo with the others. Perhaps, it should be lumped with Tenellia sp. #22, instead?