_______________



Additional Photos


side
trio


Tenellia sp. #16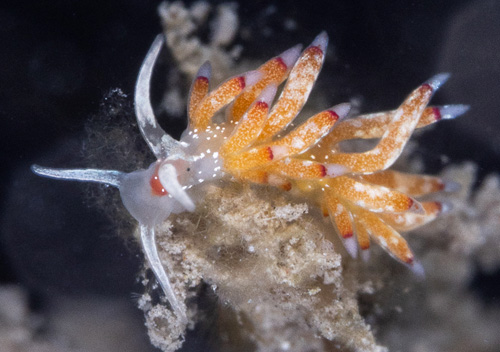 Maximum size:

10 mm.



Identification:

This is a translucent-gray aeolid flecked with white. The rhinophores and cephalic tentacles are frosted with white. The ceratal core is mottled orange-brown and the tips of the cerata are translucent-violet with narrow, subapical red-brown bands.



Natural history:

Tenellia

sp. #16 has been recorded from test panels set in Pearl Harbor, Oahu and from a frayed buoy line at a depth of about 6 m (20 ft) on the Big Island. It may lay a crescent-shaped, white egg mass (based on photos from Guam).



Distribution:

Big Island and Oahu: also recorded from Guam.



Taxonomic notes:

It was first recorded in Hawaii from Pearl Harbor, Oahu by Clay Carlson(?) and was formerly placed in the genus Cuthona. (Note 1)



Photo:

Kate Butler: 5-10 mm: Kawaihae, Big Island, July 9, 2022.



Observations and comments:



Note 1: It may be an introduction from Guam via ships coming to Hawaii for dry dock.