_______________



Additional Photos



head & feeding

cerata detail

pale
regenerating


Tenellia sp. #2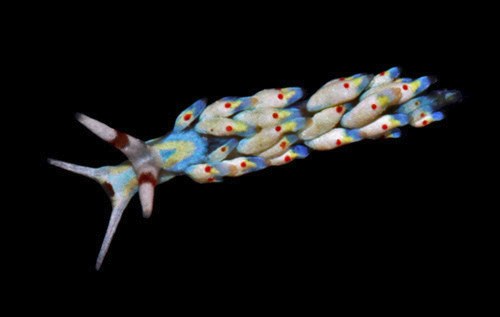 Maximum size:

7-8 mm.



Identification:

The colors of this species appear to have been painted on with a tiny brush. The head and "neck" are light blue with a yellow "v" that meets behind the rhinophores. The cerata are mostly white with a dot of bright red and a smudge of yellow on their anterior faces. They are tipped with blue. The rhinophores are white with a bright red medial band. Rarely, the band may be missing (due to regeneration?). (Note 1)



Natural history:

Tenellia

sp. #2 is a moderately rare species that has been found in moderately exposed to exposed rocky locations at depths of 3-12 m (10-40 ft). It appears to be diurnally active.



Distribution:

Big Island and Maui: widely distributed in the Indo-Pacific.



Taxonomic notes:

It was first recorded in Hawaii off Makena, Maui by PF on Oct. 1, 1990 and was formerly placed in the genus Cuthona.



Photo:

PF: 6 mm: off Makena, Maui; April 3, 2010.



Observations and comments:



Note 1: We've seen pictures of animals from elsewhere in the Indo-Pacific that had regenerating rhinophores that lacked the red band. The irregular profile of the rhinophores in this animal suggests that regeneration might explain its lack of banding.