_______________



Additional Photos



on white
underside


Tenellia sp. #21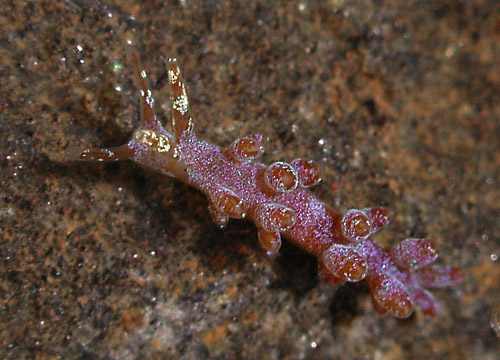 Maximum size:

3 mm.



Identification:

This animal is light brown frosted with iridescent, violet-blue flecks. There are a few yellow-white spots on the rhinophores and cephalic tentacles. The body, rhinophores, cephalic tentacles and cerata contain elaborate ramifications of the digestive gland. In the cerata, they form flattened patches running along the sides.



Natural history:

The one known

Tenellia

sp. #21 was found in rubble at a depth of 6-12 m (20-40 ft) at a moderately exposed site. The elaborate ramifications of the digestive gland suggest that it may retain zooxanthellae. (Note 1)



Distribution:

Kauai.



Taxonomic notes:

It was first recorded in Hawaii from Koloa Landing, Kauai by CP on May 26, 2010 and was formerly placed in the genus Cuthona.



Photo:

CP: 3 mm: Koloa Landing, Kauai; May 26, 2010.



Observations and comments:



Note 1: Perhaps, the pattern of brown showing through the cerata mimics hydroid polyps?