_______________



Additional Photos



2nd view

detail
young?


Thordisa sp. #14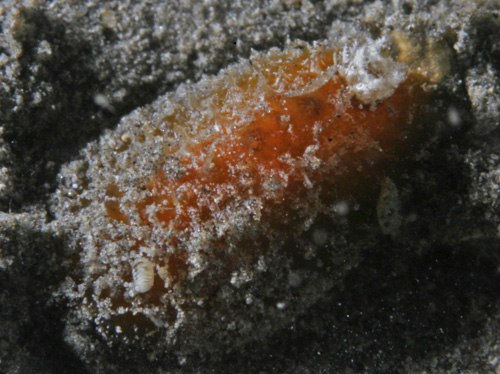 Maximum size:

about 13 mm.



Identification:

This is a yellow species with white branchia and mottled rhinophores. The center of the notum is decorated with a series of dusky patches.



Natural history:

The one mature

Thordisa

sp. #14 was found at a depth of about 4 m (12 ft) crawling in fine sediment near rocks. The habitat of the potential juvenile was similar.



Distribution:

Big Island and Maui(?).



Taxonomic notes:

It was first recorded in Hawaii from Honokohau Harbor, Big Island by Paul Okumura on May 31, 2014. In its background color and dusky mid-line patches, it's reminiscent of Thordisa sanguinea Baba, 1955 as illustrated on Bill Rudman's Okinawa site. However, the branchia (in both color and form) don't appear to match that species. (Note 1)



Photo:

Paul Okumura: about 13 mm: Honokohau Harbor, Big Island, May 31, 2014.



Observations and comments:



Note 1: An ambiguous juvenile photographed in 1996 may belong to this species. If that is ultimately confirmed by further material, it was first been recorded in Hawaii from Maalaea Bay, Maui by PF on May 3, 1996.