_______________



Additional Photos


branchia detail
rhinophore detail
side

underside

young, about 7 mm
on food sponge
_______________


GALLERY


Aldisa sp. #1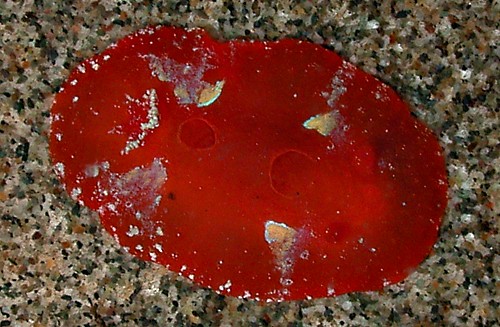 Maximum size:

20 mm.



Identification:

This is a finely papillate, orange-red animal with red gills tipped in white. The rhinophores and gills are bracketed by patches of iridescent violet and pale yellow pigment. It may be distinguished from Aldisa pikokai by its two crater-like depressions on the mid-notum (in contrast to three in the latter species).



Natural history:

Aldisa

sp. #1 is a moderately rare dorid found under rocks at moderately exposed to exposed rocky sites at depths of 4-8 m (13-26 ft). It probably feeds on a red-orange encrusting sponge. Twice, we've found it next to blood-red, spiral egg masses in the field.



Distribution:

Big Island, Maui, Oahu and Kauai: (Note 1)



Taxonomic notes:

It was first recorded in Hawaii at Makua, Oahu by Scott Johnson on Feb. 15, 1978.



Photo:

CP: Makena Landing, Maui; Aug. 2, 2002.



Observations and comments:



Note 1: This species appears to be part of a complex that's widely distributed in the Pacific. However, determining whether the Hawaiian population is endemic or also occurs elsewhere will require more work.