_______________



Additional Photos



rhinophores

cerata
trio on polyp


Baeolidia cf.

harrietae

(Rudman, 1982)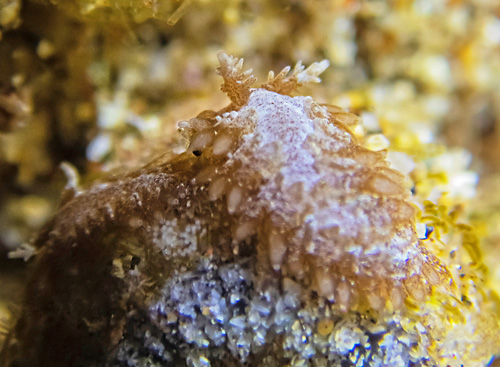 Maximum size:

( )



Identification:

This is a flattened, translucent-brown aeolid. The notum is densely flecked with white and the rhinophores have sparse, pointed papillae. The brown cerata are tipped with white and the rhinophores have white apexes.



Natural history:

Baeolidia

cf.

harrietae

is known from three animals found resting (and, presumably, feeding) on a Palythoa polyp at a moderately exposed, rocky site at about 6 m (20 ft). They probably conceal themselves at the base of the polyp by day and move up onto the polyp to feed at night. Unlike most members of its family, it feeds on zoanthiniarians rather than on anemones. (Note 1)



Distribution:

Maui: possibly also known from the Western Pacific.



Taxonomic notes:

This animal is similar to Baeolidia harietae as illustrated in Gosliner, et. al. (2018). However, considering its small size and the large range extension, we're using "cf" pending confirmation. Baeolidia harietae is listed on some sites (including WoRMS) as Aeolidiopsis harrietae. It's also similar to Baeolidia palythoae (= Aeolidiopsis palythoea) from the western Indian Ocean. It was first recorded in Hawaii from Black Rock, Maui by David Leonhardt on April 29, 2022.



Photo:

David Leonhardt: pair, 1-1.5 mm: night dive; Black Rock, Maui; April 29, 2022.



Observations and comments:



Note 1: Although the ID isn't certain, the size and characteristics of the contracted polyp they are on suggest that it may be Palythoa toxica, a species known to occur in small quantities at the site.