_______________



Additional Photos


side
underside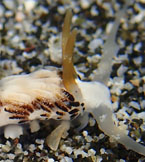 cerata detail

elevated cerata

regenerating
feeding?

laying eggs


Cerberilla sp. #2


Maximum size:

8 mm.



Identification:

The body of this animal is cream with extensive white pigment on the notum and closely set, brick-red rhinophores. The cerata are cream flecked with white and the lateral cerata have dark brown bases. The cephalic tentacles are very long.



Natural history:

Cerberilla

sp. #2 is a moderately common aeolid found in

Halimeda kanaloana

beds at depths of 8-30 m (25-100 ft). It showed diurnal activity and strong positive phototaxis when held in a dish. It probably feeds on sand-dwelling anemones. (Note 1) It lays an irregular, spiral, white egg mass composed of many short arcs.



Distribution:

Big Island, Maui and Oahu.



Taxonomic notes:

This animal appears similar to one that was formerly illustrated as

Cerberilla

sp #2 on Robert Bolland's Okinawa site. It was first recorded in Hawaii from off the Lahaina waterfront, Maui by CP on Oct. 8, 2008.



Photo:

CP: 7 mm: found by PF; near McGregor Point, Maui; Nov. 7, 2008.



Observations and comments:



Note 1: While held, one of the animals appeared to take a few "bites" out of the disk of a small anemone (Anemonia mutabilis?) before breaking off. However, there was little apparent damage to the anemone and it didn't resume feeding on it over the next 24 hours.