_______________



Additional Photos



underside
detail


Odontoglaja sp. #1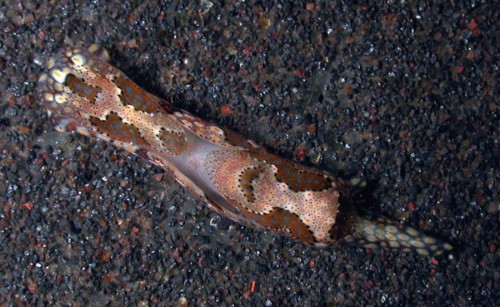 Maximum size:

11 mm.



Identification:

This species has a translucent cream body intricately patterned in golden-yellow, sky blue, brown and white. (Note 1)



Natural history:

The only known

Odontoglaja

sp. #1 was found at a highly exposed, rocky site at 1-6 m (3-20 ft). It showed a diurnal activity pattern when held in a dish.



Distribution:

Maui: widely distributed in the western & central Pacific.



Taxonomic notes:

It was first recorded in Hawaii at Honanana, Maui by CP on July 8, 2005.



Photo:

CP: 11 mm: Honanana, Maui; July 8, 2005.

Observations and comments:

Note 1: The blue spots on an orange-gold background aren't as precisely matched to the blue and gold ocelli found in the sea hares Stylocheilus striatus and

Phycohila euchlora

as are the markings in some other possible mimics. But, perhaps they are close enough so that

Odontoglaja

sp. #1 is still deriving some benefit from the resemblance (since the sea hares are known to concentrate toxins from the cyanobacteria they eat)?