_______________



Additional Photos



side

underside

dark

young

on sand


Pleurobranchus

mamillatus

Quoy & Gaimard, 1832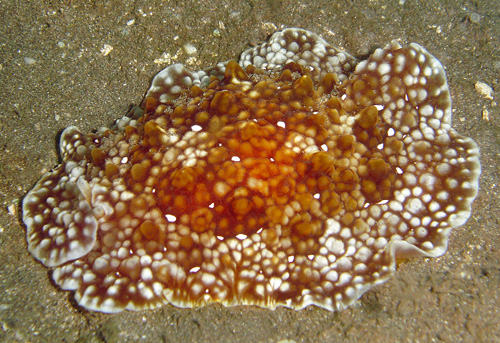 Maximum size:

about 76 mm. (probably gets much larger)



Identification:

This is a large species with tall, conical tubercles on the central portion of the notum that may be somewhat contractile. There are irregular arcs or rings of small, rounded tubercles surrounding the larger ones. The lateral portion of the notum is thinner with fewer large tubercles and the rhinophores are deeply enfolded. The color ranges from mottled burnt-orange and cream to dark violet-red. The underside is light orange in mottled animals while the notum has bright violet-white spots in all forms (a trait that distinguishes them from Pleurobranchus grandis).



Natural history:

Pleurobranchus mamillatus

has been dredged from about 100 m (328 ft) and photographed from HURL submersibles at 92-138 m (302-453 ft). However, a single animal was found by PF at 8 m (25 ft) in a

Halimeda kanaloana

bed indicating that they occasionally enter shallow water. The notum of that animal was completely covered with sand when found. (see photo)



Distribution:

Maui, Oahu, Raita Bank and Pioneer Bank: widely distributed in the Indo-Pacific.



Taxonomic notes:

It was first recorded in Hawaii from Oahu by Terry Gosliner. It's misspelled in some sources as "Pleurobranchus mammalatus". (note 1)



Photo:

PF: about 76 mm: Maalaea Bay, Maui; Oct. 15, 2020.



Observations and comments:



Note 1: Most animals from elsewhere in the Indo-Pacific have violet-white arcs on their notums while all known Hawaiian animals have violet-white spots. However, Japan shows a mixture of animals with arcs and spots suggesting that Hawaii might have been colonized from that direction. Perhaps, the dominance of spotted animals in Hawaii is due to "founder's effect"? Meanwhile, the smaller tubercles seem better developed in Hawaiian animals than in most specimens from elsewhere (often resembling the tubercles of Pleurobranchus hilli, a species that lacks both spots and arcs). So, the DNA should probably be checked...