_______________



Additional Photos



front

large "balls"

egg mass?


Plocamopherus(?)

sp. #1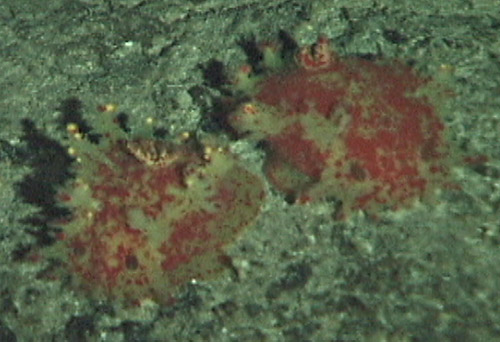 Maximum size:

( )



Identification:

This is a large, dusky-cream species flecked with brick red. The rhinophores appear to be brown and the gills are flecked with red. It has long lateral papillae irregularly tipped with cream "balls". The front of the head has long papillae.



Natural history:

Plocamopherus(?) sp. #1 has been photographed and collected from HURL submersibles at 250-371 m (820-1217 ft). The cream "balls" on the lateral papillae are probably bioluminescent.



Distribution:

Cross Seamount, Oahu and French Frigate Shoals. It may have been recorded from the Marianas and Line Islands. (Note 1)



Taxonomic notes:

It was first recorded in Hawaii by the Undersea Research Laboratory (HURL) during Makali'i submersible dive # 211, principal investigator Kitty Agegian, Jan 16, 1984. It might ultimately turn out to be in Kaloplocamus.



Photo:

HURL-NOAA archives, Frank Parrish (PI): pair, one with multiple small "balls": 371 m (1217 ft); French Frigate Shoals; Sept. 16, 1998.



Observations and comments:



Note 1: Animals photographed during NOOA-Okeanos Explorer expeditions to the Marianas and Line Islands at 400-600 m (1312-1968 ft) appear superficially similar to those from Hawaii.