_______________



Additional Photos


top


Sclerodoris

rubicunda

(Baba, 1949)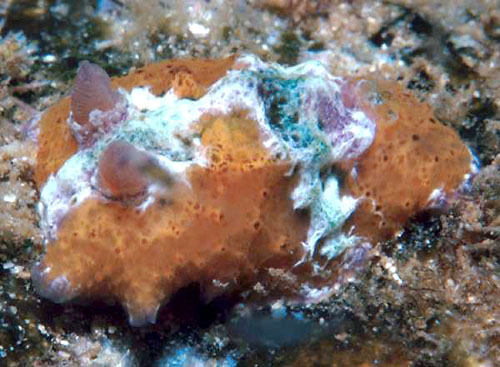 Maximum size:

about 25 mm.



Identification:

This is a highly cryptic species distinguished by its burnt-orange background and a white, y-shaped band that is highlighted in turquoise and violet.



Natural history:

Sclerodoris rubicunda

is a rare, nocturnal species known from only two animals found in exposed to highly exposed rocky habitats at < 10 m (33 ft).



Distribution:

Oahu: also known from Japan and Papua New Guinea.



Taxonomic notes:

It was first recorded in Hawaii at Pupukea, Oahu by Scott Johnson on May 27, 1978.



Photo:

Scott Johnson: about 25 mm: Pupukea, Oahu; May 27, 1978.