_______________



Additional Photos




side

rhinophores

orange

young

with egg mass


Spurilla braziliana MacFarland, 1909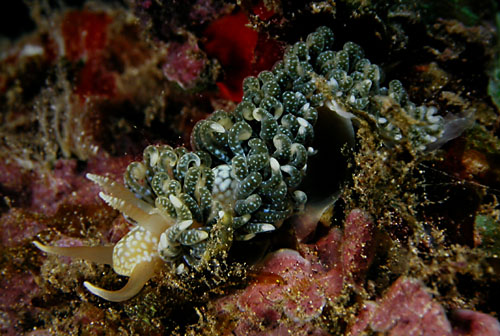 Maximum size:

26 mm.



Identification:

This is a large aeolid with a tan body and greenish to brownish cerata decorated with white spots. Rarely, it may be tinged with orange. Its cerata have prominent cnidosacs in their tips. It may be distinguished from other Hawaiian aeolids by its perfoliate rhinophores.



Natural history:

On Maui,

Spurilla braziliana

is a rare species found in shallow rocky habitats. However, it may be more common in protected habitats on Oahu. It lays a white egg mass composed of a "slinky-like" spiral ribbon deposited in a spiral patch on the underside of a rock.



Distribution:

Big Island, Maui and Oahu: also known from Japan, Costa Rica and the western Atlantic. (Note 1)



Taxonomic notes:

This species is listed in Gosliner, 1980 and Kay, 1979 as Spurilla neapolitana. It was first recorded in Hawaii from Kewalo Basin, Oahu by Terry Gosliner in Nov., 1972.



Photo:

Mike Severns: 26 mm: found by PF; Maliko Bay, Maui; Oct. 6, 1987.



Observations and comments:



Note 1: Given that the genus appears to be predominantly Atlantic in distribution (based on Carmona, et. al., 2013), perhaps the Pacific populations are introduced?