_______________



Additional Photos



side

underside

on black
mating?
_______________
GALLERY


Stiliger sp. #12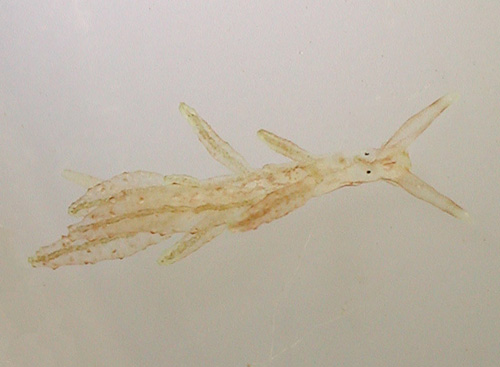 Maximum size:

about 3 mm.



Identification:

This is a tiny species with sparse, irregularly sized, tuberculate cerata. It is similar to Stiliger sp. #4 but lacks digestive gland branches in the rhinophores. Diffuse brown pigment runs along the edges of the foot and rhinophores (more prominent in larger animals). The tubercles on the cerata are also tipped in brown.



Natural history:

Stiliger

sp. #12 is known from six animals found in silty

Halimeda kanaloana

beds at depths of about 6-9 m (20-30 ft).



Distribution:

Maui.



Taxonomic notes:

It was first recorded in Hawaii from Maalaea Bay, Maui by PF and CP on May 10, 2008. (Note 1)



Photo:

CP: about 3 mm: found by PF; Kenolio Park, Maui; Dec. 5, 2014.



Observations and comments:



Note 1: The 2008 animal has fainter brown markings than the 2014 animals but also lacks branches of the digestive gland in its rhinophores suggesting that it belongs with this species rather than Stiliger sp. #4.