_______________



Additional Photos



head

underside
side
shell
_______________


GALLERY


Tylodina sp. #1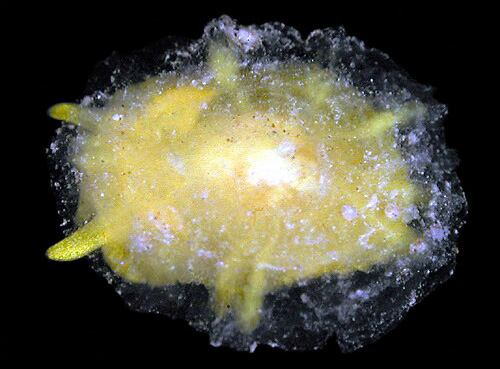 Maximum size:

6.3 mm (extrapolated from shell length).



Identification:

This species has a yellow body and a cap-shaped external shell. The flexible, translucent, periostracum extends well beyond the margin of the calcified portion of the shell and the apparent radial ridges represent thickened portions of the periostracum. (Note 1)



Natural history:

Tylodina

sp. #1 is known from only four live animals found in moderately protected to moderately exposed rocky habitats at depths of 3-4 m (10-13 ft). However, several thousand shells have been found in sand samples taken near rocky areas suggesting that it's actually a common species. It's nocturnal in habit and appears to be restricted to the undersides of rocks while its periostracum acquires a thin layer of detritus making it extremely difficult to see in the field. (Note 2) It probably feeds on sponges.



Distribution:

Maui, French Frigate Shoals, and Midway: possibly known from French Polynesia.



Taxonomic notes:

Live animals were first recorded in Hawaii from Napili Bay, Maui by CP on Sept. 12, 1998.



Photo:

PF: found by CP: Kapalua Bay, Maui; Oct. 1, 1999.



Observations and comments:



Note 1: A minority of shells from beach drift and subtidal sand samples showed strong green florescence under ultraviolet light (395 nM). There was no obvious correlation of florescence with shell morphology or wear. Perhaps, the difference is due to diet (different minerals/proteins incorporated into the shell?).

Note 2: When held in a dish with a lid, this species consistently crawls upwards onto the underside of the lid, then settles and clings tenaciously to the surface. That suggests that it's "programed" behaviorally for an upside-down orientation.